WOW, I CAN'T BELIEVE IT! I'VE WON MY FIRST AWARD!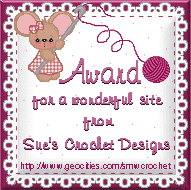 IN THE FUTURE I'LL PUT THEM AT THE BOTTOM, BUT HAD TO BRAG A LITTLE!

UPDATE! 11/1/09: UPDATED PERSONAL INFO BELOW AND PHOTOS - CLICK LITTLE BOY WITH CAMERA TO SEE HOW OUR FAMILY HAS GROWN IN THE LAST YEAR! AND YOU'LL SEE WHY I'M TOO BUSY TO UPDATE MORE OFTEN! LOL :) Added easy scalloped blanket edging to pattern page. Added a crochet tip to tips and tricks page. Also added recipe for almond tea, fruit tea, and caramel apple spice cake. ALSO ADDED NEW "CONTACT ME" INFO ON THAT PAGE.
I've been a fan of the Crochet N More site for years, so if you haven't checked it out yet please do so. And if you wish to APPLY for this award, click the link below.
PLEASE SCROLL ALL THE WAY TO THE BOTTOM OF EACH PAGE SO YOU DON'T MISS ANYTHING, AND BE SURE TO SIGN GUESTBOOK. THANKS A LOT!
HANDMADE PURSES STILL AVAILABLE - click the link below. Also, anything you see on the site can be made for you if you wish, just contact me and I'll let you know about price, etc. 5% of my portion (I don't make the purses, a friend of mine does) of all sales from this site are donated to the National Multiple Sclerosis Society for research and programs to help MS patients. JUST TO LET YOU KNOW - some of the purses are one of a kind or limited, due to availability of fabric, supplies, etc. For pictures and ordering info click link below.
Howdy, and a big Tennessee welcome to all! Please come in and browse all you like. I'd appreciate it if you'd take a minute to sign the guestbook, and feel free to state any comments/complaints/compliments that you may have so I can learn what you'd like to see more - and less - of. You can also e-mail me at any time on the "contact me" page. If you'd like to see some pics of me and my family, click link under the next paragraph on the left.
MY CLAN SYMBOL - WILD POTATO CLAN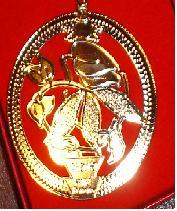 CHEROKEE TRIBE
Okay, a little info about me I guess! My name is Jamie. I was born in October, 1962 and have been crocheting since about 1998. I've been married to Gerald, born August, 1958, since 2/14/81. Like so many people these days, Gerald lost his job in January, 2009. He and two friends started their own company called Smoky Mountain Rebar and, while it's not growing by leaps and bounds, they are keeping their head above water and these days that's saying something! We have one son, Jordan, born 1/19/85 who has an apartment of his own. He has a girlfriend, Tiffany who's divorced and has a daughter, Lydia, born Nov. 2005 and she's just the cutest little thing ever. We raised our nephew, Thomas, born December,1985. He now has his own place and works as an assistant manager of the apartment complex he lives in. He and his girlfriend, Linda, just had a daughter Oct. 21, 2009. Her name is Anastasia Nicole and she's just the cutest thing ever! We have another nephew, Darrell, who had a daughter with his girlfriend, Amanda, in May, 2009. Her name is Kaylee Elizabeth and she's ALSO the cutest thing ever! We're also the proud owners of three ACA registered Pembroke Welsh Corgi's - mama, daddy and baby. Mama is Kitsune (kit-SOO-nay), born Jan. 2006. Kitsune is Japanese for fox. Daddy is Tsula (SOO-la) and he was born in April, 2007. Tsula is Cherokee for fox. He and Kit fell in love at first sight. In April, 2008 they had 6 pups. We lost the runt but the others were perfect. We sold al but one girl, who loved us as much as we loved her so we kept her. Her name is Guli, hich is Cherokee for raccoon because she had black stripes across her eyes. Unfortunately by the time she was 3 months old they were gone, but she knew her name so it stuck! For pictures of us all, click the little boy with the camera below. I'm a big sports fan - football, baseball, nascar - and I collect Precious Moments. I'm also a Sunday school teacher at my church, teaching the 3-5 year olds every Sunday morning, and Gerald and I are both youth directors. I teach the "tweens" (6-12) on Wednesday nights. I'm also known, by my son and his friends, as the "Christmas Nazi" because I'm nuts for everything Christmas! I put up 4 inside Christmas trees, two small outside trees, we light the basketball goal as well as the house, wreaths on the windows, candles in teh windowsills, lighted deer in the yard, not to mention all snowmen inside, including one that's 5 feet tall that sings and dances! I've recently become interested in family history and, through one of my cousins discovered that we descend from the Wild Potato clan of the Cherokee tribe, also known as the Raccoon or Clan Bear clan. They were the farmers of the tribe. This is something I intend to pursue further in the future, as I now have more time to put into it. I worked for 27 years, since age 14 when I was a candy striper, then at 15 lied about my age to get my first 'real" job. After going to school to become a medical assistant, I worked for 2 years in a doctors office until a month before Jordan's due date, when I quit to be a stay at home mom. That lasted a week! I was offered a medical transcriptionist job that I could do from home and jumped at the chance! I later worked for a medical transcription company for 15 years, also from my home. Unfortunately, my health has been bad for years (MS which causes among other things arm weakness and hearing loss in my case, and macular degeneration causing vision loss) and I filed for disability in 2004. I was approved in August, 2006. Now that my boys are grown and don't need my constant attention, and I'm no longer a "working woman", I decided to start this site. Please browse around, make sure you go to the bottom of every page so you don't miss anything, and let me know what you think!
FOR PICS OF ME, MY FAMILY, THE NEW GIRLS IN MY LIFE, AND MY DOGS CLICK THE LITTLE BOY WITH THE CAMERA BELOW. ALSO YOU CAN GO TO THE HOLIDAY PAGE FOR MORE PHOTOS!