UPDATE: 11/5/07: Added new patterns for fleece stocking and fleece wrap.
If you're in the market for anything in particular let me know. I'll try to help you find it, or I can make it up for you, either way.
FLEECE CHRISTMAS STOCKING (picture coming soon)
1/4 yard of your choice of fleece - be creative, I've made a Dora, an Indianapolis Colts, a Disney Cars, one with lions - they don't have to look Christmasy, unless you just want them to.
Coordinating worsted weight yarn
Ice pick for making holes in fleece
Size G crochet hook
Cut the stocking out of the fleece - I just made my own using newspaper. You can trace an old stocking or free hand it, whatever works for you. I think it's easier to fold the fleece in half and cut out both sides of the stocking at the same time. This way you know for sure they'll match up exactly.
With ice pick, make holes around outside edge of stocking all the way around, about every 1/4 inch.
With G hook, starting at one end of top of stocking, join yarn with single crochet through both thicknesses of fleece. Make 2 single crochets in each hole through both thicknesses of fleece, all the way around sides and bottom, to the next top edge. At this point make 2 single crochets in each hole through only one piece of fabric, crocheting all the way around to starting single crochet to make opening for stocking.
I made 10 rows of single crochets all the way around the top of the stocking. You can adjust this to make it the way you want. At one corner of top of stocking, chain 18, then join at bottom with a slip stitch to form hanging ring. Makes a nice gift, especially with a little something special or a gift card tucked inside!
FLEECE WRAP
Pic and pattern instructions coming soon.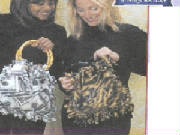 NO SEW FLEECE PURSE
MATERIALS: 1/2 YARD OUTERWEAR FLEECE
1 pair 7 1/2" roud, oval or D shaped purse handles
rotary cutter, ruler, mat
june tailor Shape Cut slotted ruler
CUT: 2 16" x 18" pieces fleece NOTE: 16" measurement is lengthwise grain of fleece (least stretch)
DIRECTIONS: Lay fleece pieces wrong sides together on cutting mat.
Remove a 3" square from each corner, discard. Using Shape Cut slotted ruler, cut 1/2" wide x 3" deep fringe as shown. NOTE: Yo must have an even number of fringe on top edge. Using an overhead knot or squre knot, tie pairs of fringe together on all edges except top. NOTE: The knots at the top of the sides can be eased out slightly to allow easier access to the purse. Separate layers at top. Using a square knot, tie fringe in pairs, with one strand in front of andone strand behind, around each handle.
Here are a few fleece tips.
To make the blankets, I use one yard of fleece for baby/child size blankets and two yards for adult size blankets. For scarves, I use 1/3 yard. Most fleece that I've seen, except for the panels, is 58/60" wide. I'm not sure about the panel sizes, they may vary somewhat, but I made my hubby a fleece blanket from a panel for our anniversary last year and he's a large man, 6' and a little chunky, and it's big enough for him.
For the crocheted edgings, I use a washable marker and measure every 1/2" around and mark a "dot" for making a hole. I make the holes with an ice pick and that gives me something to crochet the edging into. I've played with this a lot and 1/2 inch seems to work well with scarves, pillows, adult and child blankets. For crocheting an edge I usually use an F or G sized hook, as they fit into the holes easily, the stitches are close enough together to cover the edge well, but don't pucker or ruffle up. Regardless of the type of edging I use, I like to do two single crochets in each hole, this makes a nice flat edge but covers the whole edge nicely without any "blank" spaces. You can leave it like this - which I usually do with baby blankets if I don't know if the baby will be male or female, or you can use this as a "foundation" row to crochet any type of edging you wish. You can also add fringe, whatever length you wish, to the ends of the blankets using just the two single crochet eding. I did this for my hubby's panel blanket that I made him. I picked 4 colors out of the blanket, matched the yarn to those colors, and used 12 pieces of yarn cut the length I wanted, 3 of each color.
Here's a link to Joanns.com for a pattern to knit a scarf using fleece fabric. I don't knit myself, but I'm sure this could be adapted to crochet, similar to the crochet rag rugs and things.
CLICK HERE FOR JOANN'S.COM SCARF PATTERN
Hope you like it!
Here are some links to Hancocks Fabrics for fleece patterns that are quick and easy to do. Some of them call for flannel, but fleece could easily be substituted and I find it easier to work with.
Fringed fleece pillow - version 1
Twice as warm blanket version 1
Twice as warm blanket - version 2
Please click the link above and vote for my site. Thanks!